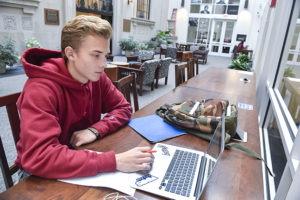 By Karen Diaz, Dean of WVU Libraries
For two years now, West Virginia University Libraries has been working toward bringing our materials spending in line with the new budget realities that we have faced since 2016. One of the biggest challenges in our reduction in funds is managing "bundled" journals subscriptions that historically provided us with more journal title subscriptions at less cost. Unfortunately, over time the inflationary costs of these bundle subscriptions have outpaced the size of our budget.
In 2016, when we were first presented with the need to reduce our spending, bundled journal packages accounted for 30 percent of our materials budget but only provided 6.2 percent of our titles. We recognized at the time that we would have to address this significant portion of our budget to achieve the necessary savings. We did so immediately by unbundling our Wiley subscription package which provided us with about $400,000 in savings at that time. Now we are moving to unbundle the remaining packages.
Remedies, Consequences and Negotiations
Our librarians have spent the last year and a half doing a tremendous amount of analysis on our bundled packages. We have looked at where there is title overlap between different packages we purchase. We have purchased a detailed report that helps us understand which journals our campus researchers are downloading from, publishing in, and citing in their published research. Based on that we have been able to rank in importance the journals for our community in a data driven manner. Our internal collections advisory committee has reviewed and adjusted this work based on extra knowledge gleaned from relationships they have developed with colleges across campus.
One of our journal packages – specifically ScienceDirect with Elsevier – currently takes up 36 percent of our budget but provides only three percent of our titles. Granted, these are high quality titles and many of them are heavily used by the campus community. Still, by taking such a large proportion of our budget, this package has left us with no flexibility to buy monographs on a regular basis, or consider emerging journal or database titles requested by faculty. We have consulted with deans, many department chairs, the Office of Research, and some faculty about this challenge.
After a very lengthy research and negotiation process with Elsevier, we are in the process of finalizing a new contract which unbundles the big package we had. This will mean a loss of new content for some, but not all, of their journal titles. We additionally did a thorough analysis of our usage and spending on the big package we have with Springer and have determined that we will also be unbundling that package. This will allow us to reduce the number of lesser used titles and reduce spending. These changes will take effect on or about January 1, 2019. We have provided complete lists of the Springer and Elsevier titles affected.
Still Delivering Effective Research Support
Because of these changes, the library is reinstating its subscription to SCOPUS (note WVU access will begin before January 1, 2019), a popular scholarly search tool that many lamented the loss of when we cancelled it in 2017. Additionally, the library continues to provide excellent Interlibrary Loan services and we are confident we can supply content that is necessary for the research needs of the campus.  In many cases, journal articles can be supplied within hours of the request. There is never a cost to the researcher or the department for obtaining materials through ILL and we will soon be expanding this service over weekends.
We recognize that these changes may require some new research habits and up-to-date information on the quickest and most cost effective way to get what you need. Our liaison librarians are happy to meet with you by department or individually to ensure you know the latest.
A Shared Reality
It is also important to know that these challenges do not affect WVU alone. SPARC keeps an ongoing watch list of universities that have cancelled journal packages in a nod to the fact that these packages are becoming unsustainable. Many national and international organizations have been pushing back on the high costs that Elsevier, in particular, charges for access to scholarly content.
I am happy to discuss any concerns you might have regarding this decision. You can reach me at karen.diaz@mail.wvu.edu or 304-293-0304.
The following op-ed appeared in the Charleston Gazette on August 14.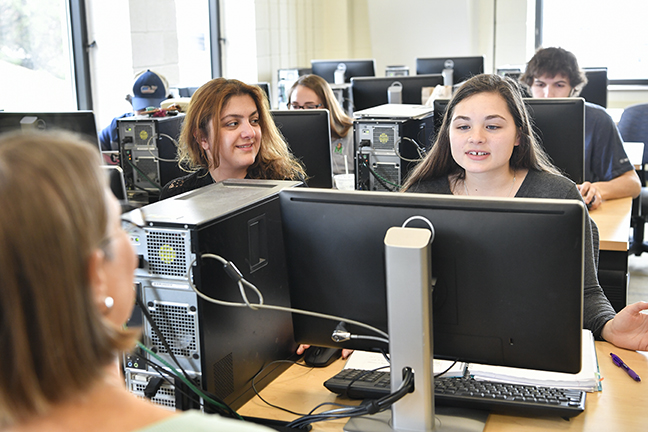 By Karen Diaz, Interim Dean of Libraries
Libraries enjoy an interesting relationship with the public and our users. We are trusted, loved, and yet often underestimated. Folks think of libraries as the friendly place to get books. They are indeed that – but so much more. Libraries are neutral in the sense of belonging to the collective, and hosting different points of view. They are political in the sense of dedication to that cause and working against censorship. They are for the common good. They are places and they are virtual. And importantly they are run by professionals who are guides, teachers, partners, community workers and scholars all in one. A public library is a space where the local community can come to grow and to learn about societal as well as personal matters whether that be through books or events. An academic library is a "neutral" space that brings different disciplines together through collections, space and services.
Libraries have a lot in common – and yet are distinct from – organizations like art galleries and museums. In fact, the GLAM acronym is meant to represent the overlapping concerns of galleries, libraries, archives and museums. And when libraries think of themselves as GLAM organizations, interesting things begin to happen. Libraries become more creative and visual. They become not only holders of stories and research, but tellers of stories and research.
West Virginia University Libraries does this in many ways. Our West Virginia and Regional History Center is the premier collection of primary materials for the state and region and holds treasures that tell stories of our past. Exhibits are open for the public to glimpse highlights of the collection. The digital collections allow anyone to view documents, videos and photographs in the collection from anywhere.
This coming fall, the WVU Downtown Campus Library is pleased to open a highly interdisciplinary, strikingly visual and deeply significant exhibit on WATER. This exhibit includes over 20 collaborators from on and off our campus. As an essential source of life, adventure, and even devastation, water is a significant resource in the state of West Virginia. By bringing academic research from many disciplines together with community activism and artistic expression on water all together in one venue we are creating a truly unique opportunity for anyone in the state to come and "take it all in." We hope this will spark new opportunities for research, innovation and collaboration.
Additionally we are working on a Public Arts Guide with the Art Museum of WVU, College of Creative Arts, Arts Monongahela and the Morgantown Convention and Visitor's Bureau, for the city of Morgantown to provide citizens and visitors the opportunity to learn what art venues and opportunities exist in our community both on and off campus. You'll find that some of these venues are in libraries! This work is funded in part by a community engagement grant from WVU.
WVU President E. Gordon Gee always reminds the campus that we have a mission to engage with and seek solutions to the many challenges of our state and region. Libraries can play an important role in being a crossroad, conduit and venue for such engagement.  Expect it.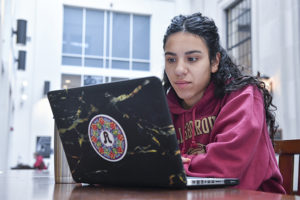 By Karen Diaz, Interim Dean of Libraries
The state of West Virginia and West Virginia University have had a couple of belt-tightening years. This, of course, has impacted the Libraries budget as well.  After two years of stringent reductions and loss of access to reserve funding, we have had to cut our spending on library materials (collections) from over $9 million in FY 2015 to under $6 million in FY 2018. This is a 39% reduction.
A few things about library collections:
About 90% of our materials budget now goes to electronic materials. This includes databases, e-books, and e-journals, and is fairly typical for an academic library.
About 88% of our budget is for subscription items. These are items that in most cases require us to maintain the subscription in order to continue to have access to the title at all.  For instance, if we cancel a database, we no longer have access to any information in the database.  We don't just lose access to the current year moving forward.
Some of our "materials" costs actually go to tools to help provide access to our content. For example, we pay an annual fee for our online catalog, in some cases we pay an annual "hosting fee" for digital content, we pay for tools that allow our users to log into proprietary content from off campus, and tools that provide us with data about which materials are being used.
Even the content we get for free, such as gift books or important archives and manuscripts, have costs. There are fees for transporting the material, processing it so it is known and findable to researchers, and housing it – sometimes in special acid-free boxes or in particular conditions for longevity. If we want to make that content available online there are digitization costs.
Why this is hard
It's easy to understand that having less money is harder to manage than having more money. Clearly you can buy less content. Because so much of our budget is subscription based, reducing our spending is not as simple as buying less, it actually means cancelling subscriptions. With subscriptions to over 96,000 titles, the challenge becomes picking out which items to cancel from that huge collection. This is where the tools that we have for understanding usage become very important.
Another complication is that many of our subscriptions come in "bundled" packages. The vendors of bundled packages give us a discount for buying the titles in bulk. When we are in a stable or growth period this can be of great benefit to us and allows us to buy "more for less." But when we are cancelling materials these bundled packages are extremely problematic. If we don't unbundle them, they begin to take up a larger and larger portion of our budget preventing us from buying items that are not part of the bundles. If we do unbundle them, we end up paying a little less money for a lot less content. We did unbundle one such package in FY 2017 and saved about $440,000 (or just about half of what we had been paying), but we lost 92% of the content.
Additionally, many of the vendors from whom we buy content are for-profit companies. They need growth in revenues, and as there is a limited customer base for scholarly content the growth generally comes through regular price increases of 3-6% every year. Even in good years it is unlikely that the budget of a non-profit institution like a university will be able to sustain that level of growth year after year.  And if our library budget does not grow at that rate, it will lose content every year.
Where there is opportunity
As the Chinese (and WVU President Gordon Gee) say, in every crisis there is opportunity. We have been trying to capitalize on those opportunities as much as possible. One way we have done this is to use these cuts as an opportunity to have conversations with various members of campus to talk about our challenges and to work toward solutions that benefit the most people.
We belong to several consortia that provide us with access to content we cannot afford to buy on our own. We have also been using our campus conversations to ensure people know how to take advantage of that through use of our Interlibrary Loan services – and to reframe understanding that the digital era has meant we can get that material often within hours instead of within days.
Loss of content reminds people of one of the values of the library. Again, in the digital age, it is easy to think that all information is only a click away. Because SO MUCH content is easy to get and free, it's easy to forget that not ALL content, especially perhaps some of the higher quality content, is not free. Much like utilities, libraries are often not valued or even noticed unless they go away. A loss of resources that affects the entire campus reminds every one of at least a portion of the value we provide to a university campus. This is perhaps a self-serving comment to make, but we (who work in libraries) know libraries provide much benefit to campuses beyond content that is often challenging for us to articulate.
Finally, there is so much opportunity to rethink the way we publish and share scholarship. In academic libraries we are fond of talking about how universities pay scholars to do research, incent them to publish it in for-profit journals, and then buy that content back again for researchers to consume. Of course, that is an oversimplification of the relationships between libraries, publishers, faculty, and universities – but there is much to explore in how to make those relationships more beneficial to all parties involved.  One movement that has grown up in this conversation is the Open Access movement in which WVU Libraries is investing time and dollars. I will share more on this investment in my next post.