By Karen Diaz, Dean of Libraries
The Libraries closed to the public on March 19 as part of the campus shut down due to COVID-19. It remained shuttered to the public until August 20 when it reopened to the campus community only through swipe access. This was 143 days of being closed.
During the closure most of our staff retreated to working from home as did the rest of campus with a skeleton crew on sight to retrieve and deliver print materials to our faculty, staff and students as needed. During that time, we continued to maintain access to our digital materials and purchase new academic content, completed teaching our already online credit courses, continued to answer reference questions through email, chat and phone. As mentioned, we also scanned articles from print materials as needed to email to our campus community and even mailed print books as needed.  Interlibrary loan continued for everything digital, but stopped for print materials due to so many library buildings being closed. The WVRHC was also closed, but provided reference assistance as possible.
Selected data for the end of Spring semester through June while closed:   
Items checked out: 1,337
Books purchased that could not be borrowed through ILL: 719
Reference questions answered (Morgantown): 1,242
Reference questions answered (WVRHC): 164
Scheduled consultation sessions: 120
eReserves added (books, articles, streaming media): 389
ILL filled (articles): 5,208
Visits to our website: 526,727
Visits to our research guides: 2,232
During the summer many of our staff experienced being furloughed during the campus furloughs. We were very happy and relieved to welcome everyone back in July. Many were important to the work of preparing our buildings for reopening. Those staff who were not furloughed continued to work from home, with a couple more brought to campus to manage our mail pick-up and delivery while that service was diminished.
We also had to cancel many events. Both a Speculative Futures Conference (with the Humanities Center, and a Sherlock Holmes Conference (with the President's Office) had to be cancelled.
Meanwhile, our Art in the Libraries Program did an amazing pivot and managed to host a number of Friday at noon events during Zoom. We have been having 20-40 participants in these online activities. We also switched our large interdisciplinary exhibit Undefeated to open as a virtual exhibit with on ground installation coming in Spring Semester.
Upon our reopening of all campus libraries on August 10, we instituted many changes:
Swipe access to both Evansdale and Downtown libraries was instituted to restrict access to WVU students, staff and faculty. The location of Health Sciences Library makes non-WVU community members access problematic already, so no changes were made.
All facilities were adjusted to reduce seating by about 1/3 – ½ and to ensure proper distancing.
Masks are required and are available at our front desks for any user who comes in without one.
Hand sanitizing stations and disinfecting wipes are available in many locations
WVRHC is physically available only to WVRHC faculty, staff and students with an appointment
Hours are slightly reduced (all close at midnight during the week).
Used physical materials are quarantined for 3 days before returning to the shelves.
Brought up a major exhibit virtually with print installation to take place in spring.
How things are going in fall semester:
Our door counts are about 1/5 – ¼ of our usual numbers in a typical semester.  While these numbers feel disappointing they are in line with the de-densification of campus and actually help keep the libraries safer.
Our virtual reference interactions seem to be higher this semester than in the past.
We have had no reports of spread in the libraries. We have had a few of our student employees test positive and have to isolate -and in some cases this has caused our staff to also have to quarantine. You may have seen a disruption in hours at the Downtown Campus Library for this reason. One staff member had to quarantine because of COVID in his family. We have been so fortunate to not suffer any illness!
We will continue to have evening hours even after the Thanksgiving break so that any local students who need a place to study for or complete their final exam will have a place to do so. After the semester ends we will go to an 8-5 M-F schedule for the intersession.
We will finalize hours for spring semester when the academic schedule is more complete.
By Karen Diaz, Dean of WVU Libraries
The outrage, anger, and sadness of George Floyd's murder is palpable in our community, nation and world.  I share those sentiments and like many think "these killings have got to stop".  We know systemic racism and violence against Black people are not new problems, but we have reached a new crescendo.
I have struggled personally with how to respond from the WVU Libraries. I have been leery of creating yet one more statement in a sea of statements.  It's too easy to say something – but so hard to create meaningful change. At the same time, I recognize that there is a need to verbalize intention if we want to move our organization in a new direction. I was pleased that our university president has led with such a statement and has challenged me, as a part of the WVU community to act.
When I think about how libraries need to change to become truly anti-racist institutions, I see two sides to this. First is that it matters how we think of our role as a cultural institution.  How do we create spaces, collections, instruction and programming that represents all voices, and that fosters a sense of belonging for all users?  Next, it matters how we think of our role as an employer. How do we create accountability and structure our culture internally to ensure employees from diverse races and ethnicities are hired and feel a sense of belonging?
In thinking through these two big challenges, I recognize that they are inextricably intertwined with each other.  I have been reading the works of and listening to colleagues in my own field these last several days.  I have particularly been paying attention to Black leaders and I'd like to highlight some of their thoughts that inform my thinking.
This conversation between Carla Hayden, Librarian of Congress and Lonnie Bunch, Secretary of the Smithsonian Institution was informative in helping me think about our role as cultural institution.  Each share how important representation in books and cultural artifacts prompted their interest in entering their respective fields.  This representation then serves to inform the role cultural institutions have in helping to shape and change society.
This line of thinking has resulted in the fact that librarians see themselves as saviors or guardians of knowledge.  Two years ago, our colleague pointed out a flaw in this thinking. Just because our mission is noble, it does not mean that we are above reproach and criticism in how we do our work and how organizations treat their workers. Fobazi Ettarh articulated our challenge as vocational awe, and how that awe stands in the way of making progress as an employer as well as cultural institution. Now is not the time for articulating how important we are to the cultural record.  Now is when we must ask WHAT and WHOSE cultural record we are creating, amplifying and preserving. If our organizational culture is oppressive because it defaults to our racist and patriarchal origins, does that not become reflected in the cultural heritage we are preserving and protecting?
Finally, I'll share statements and thoughts from two leaders of research libraries:
First fromVice Provost for University Libraries and University Librarian at UNC Chapel Hill, Elaine L. Westbrooks who states that becoming organizations fully dedicated to equality requires reckoning with our past.  She promises to begin that reckoning at her institution and I look forward to learning what that will look like and what it might teach us at WVU.
Second from Vice Provost for Libraries and Museums and May Morris University Librarian at the University of Delaware, Trevor Dawes who acknowledges the value of statements, but recognizes that statements are simply not enough and that we must act.
I am meeting with my leadership team individually in the coming weeks to begin conversations about race and racism at WVU Libraries. I hope to pave the way for normalizing these conversations in a group setting so that we might begin to create meaningful change. I know it won't be quick and I know it is complex.  But I also know it is necessary.
Resources
I would also like to share resources compiled by a previous resident librarian and updated by our Diversity, Equity, and Inclusion Action Committee:
https://libguides.wvu.edu/diversity
Additional Statements
Here are statements from some of our professional organizations:
American Library Association (ALA)
Society of American Archivists (SAA)
Medical Library Association (MLA)
Association of Research Libraries (ARL)
Digital Public Library of America (DPLA)
International Federation of Library Associations and Institutions (IFLA)
North American Serials Interest Group (NASIG)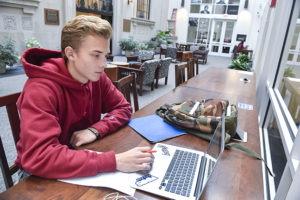 By Karen Diaz, Dean of WVU Libraries
For two years now, West Virginia University Libraries has been working toward bringing our materials spending in line with the new budget realities that we have faced since 2016. One of the biggest challenges in our reduction in funds is managing "bundled" journals subscriptions that historically provided us with more journal title subscriptions at less cost. Unfortunately, over time the inflationary costs of these bundle subscriptions have outpaced the size of our budget.
In 2016, when we were first presented with the need to reduce our spending, bundled journal packages accounted for 30 percent of our materials budget but only provided 6.2 percent of our titles. We recognized at the time that we would have to address this significant portion of our budget to achieve the necessary savings. We did so immediately by unbundling our Wiley subscription package which provided us with about $400,000 in savings at that time. Now we are moving to unbundle the remaining packages.
Remedies, Consequences and Negotiations
Our librarians have spent the last year and a half doing a tremendous amount of analysis on our bundled packages. We have looked at where there is title overlap between different packages we purchase. We have purchased a detailed report that helps us understand which journals our campus researchers are downloading from, publishing in, and citing in their published research. Based on that we have been able to rank in importance the journals for our community in a data driven manner. Our internal collections advisory committee has reviewed and adjusted this work based on extra knowledge gleaned from relationships they have developed with colleges across campus.
One of our journal packages – specifically ScienceDirect with Elsevier – currently takes up 36 percent of our budget but provides only three percent of our titles. Granted, these are high quality titles and many of them are heavily used by the campus community. Still, by taking such a large proportion of our budget, this package has left us with no flexibility to buy monographs on a regular basis, or consider emerging journal or database titles requested by faculty. We have consulted with deans, many department chairs, the Office of Research, and some faculty about this challenge.
After a very lengthy research and negotiation process with Elsevier, we are in the process of finalizing a new contract which unbundles the big package we had. This will mean a loss of new content for some, but not all, of their journal titles. We additionally did a thorough analysis of our usage and spending on the big package we have with Springer and have determined that we will also be unbundling that package. This will allow us to reduce the number of lesser used titles and reduce spending. These changes will take effect on or about January 1, 2019. We have provided complete lists of the Springer and Elsevier titles affected.
Still Delivering Effective Research Support
Because of these changes, the library is reinstating its subscription to SCOPUS (note WVU access will begin before January 1, 2019), a popular scholarly search tool that many lamented the loss of when we cancelled it in 2017. Additionally, the library continues to provide excellent Interlibrary Loan services and we are confident we can supply content that is necessary for the research needs of the campus.  In many cases, journal articles can be supplied within hours of the request. There is never a cost to the researcher or the department for obtaining materials through ILL and we will soon be expanding this service over weekends.
We recognize that these changes may require some new research habits and up-to-date information on the quickest and most cost effective way to get what you need. Our liaison librarians are happy to meet with you by department or individually to ensure you know the latest.
A Shared Reality
It is also important to know that these challenges do not affect WVU alone. SPARC keeps an ongoing watch list of universities that have cancelled journal packages in a nod to the fact that these packages are becoming unsustainable. Many national and international organizations have been pushing back on the high costs that Elsevier, in particular, charges for access to scholarly content.
I am happy to discuss any concerns you might have regarding this decision. You can reach me at karen.diaz@mail.wvu.edu or 304-293-0304.